About Myself!
I
have been with WS/FC Schools since 1984.
I have a B.A. in French Education, with additional hours in Spanish.
I also have an MPH in Community Health Education. I
have taught middle school students for my entire career and think they are the best!
What are we doing in class?
Beginning French: We have been learning about French schools; conjugating verbs; how to express opinions. After Spring Break, we will begin learning how to describe items used in the classroom. The grammar includes noun/adjective agreement.
Continuing French: We have been learning about French restaurants and French foods. The students have made French menus and will be writing restaurant skits after Spring Break.
French 1 High School Credit: We have been learning about foods in French. The partitive and the irregular verb pouvoir have been part of the grammar of this unit. After Spring Break we will learn how to talk about activities in the past tense. We have spent time studying for the writing portion of the EOC and have now completed it. A letter was sent home several weeks ago explaining the EOC testing for high school credit for French I. The dates of the testing window have changed due to the missed days. The dates are now May 22-May 30. *UPDATE* The dates for EOC testing have now been moved to the last ten days of school, according to state law. If you have any questions, please do not hesitate to send me an e-mail or call the school.
Exploratory Languages: We will finish our French unit after Spring Break and then will begin Spanish.
Supply List
The following supplies will be needed for my classes: notebook or folder of any kind and pencil or pen. Because we are going into 4th quarter, many students have run out of paper or have lost their notebooks. They need to make sure that they have these materials.
Class expectations:
1. Be on time with required materials ready.
2. Talk or get out of your seat
only when given permission.
3. No gum, candy, or personal grooming.
4. Respect other people and their property.
5. Follow all school
rules.
Description of Courses: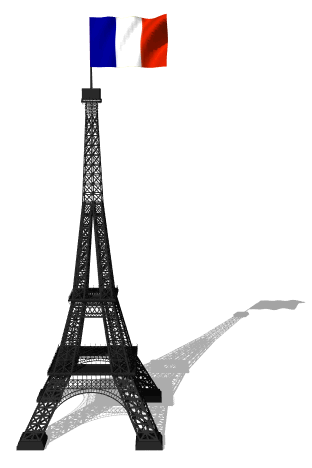 French
Students taking Beginning French in 6th grade are introduced to the basics of reading, writing, listening to, and speaking French. They are also introduced to the rich cultural heritage of the French-speaking world.


In 7th grade, students take Continuing French. We will review what the students studied last year and continue working on advancing our skills.

Students who choose French 1 High School in 8th grade have the possibility of earning high school credit for French 1. In this case, students may enroll in French 2 in 9th grade, which is the goal of the middle school program.
Eighth graders who have not taken French or Spanish in middle school have the opportunity to take Exploratory Languages. This course introduces five of the six languages offered in high school in WSFC schools. The students learn basic greetings, numbers, weather, months, seasons and so forth in German, Latin, Japanese, French, and Spanish, as well as learning how languages are related and connected to one another.
Homework
Homework is not given on a regular basis in French or Exploratory Languages. However, students in French should study vocabulary for a few minutes each day outside of class, as this helps aid retention. When homework is given, it will be posted on the homework calendar.

Contact info: Please note that we have a new phone number.
Clemmons Middle School: 703-4217